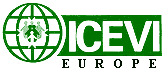 International Council for Education of People with Visual Impairment, European region
Hot message from Kazakhstan
ICEVI-Europe has a new member - The Republic of Kazakhstan joined in 2010, the national representative is a very open and tolerant lady - Mrs. Klara Rakisheva.
The year before this, Klara created an Association for the Rehabilitation of Invalid Children "I TRUST IN YOU" in the city of Aktau. The target group - visually impaired and MDVI children, aged from 2.5 to 18 years. About 50 families with v.i. children have been screened in this region. The Association is a unique establishment in Kazakhstan which provides rehabilitation services for visually impaired children now.
Remarks: Kazakhstan ranked as the ninth largest country in the world. Its territory of 2,727,300 km2 is greater than Western Europe with a population of about 16,455,000 people.
The aim of the Association is not only to find the possibility to render material support, but also to search for the possibility to help with the rehabilitation of these children; that means paying for special teachers, psychologists, doctors.
The wishes of the Association are: to cooperate with ICEVI-Europe and possibly some support at the start. In 2011 the Association is continuing the project There is no strange trouble. We would like to invite ophthalmologists, psychiatrists, neurologists, nephrologists, kinesio therapists from Russia and other countries for the ongoing project and for this we are in need of ICEVI support, meaning voluntary support from the above experts.
Contacts:
Liliya Plastunova
Representative of ICEVI-Europe on EE Countries
e-mail: lp at icevi-europe.org
Klara Rakisheva
National Representative of Kazakhstan
e-mail: klara_help at mail.ru