Please select country
National Page of Armenia
National representative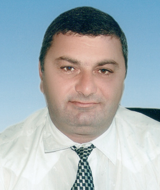 Name: Mr. Aleksan Aharonyan
Position: Director
Organization: Special School for Children with Visual Disability #14
Address: 0051, Yerevan, 31, Mamikonyants St., Armenia
Phone: 003741 23 50 00, 23 16 50
Fax: 003741 23 80 72
E-mail:
Educational institutions
YEREVAN No 14 SPECIAL SCHOOL FOR CHILDREN WITH VISUAL IMPAIRMENTS
(Ministry of Education and Science of the Republic of Armenia)
Yerevan No 14 special school for children with visual impairments was founded in 1939. It is a unique school with Braille system studding at school. Children having visual impairments different levels problems are studding at school from regions of Armenia and Nagorno Karabakh. Many of school graduates could find themselves in society due to their knowledge and upbringing, getting successes in various fields of science. This school is not only educational, but also it is an interesting vital place for save 11-years existence of blind children.
There are many creative groups at school: painting, needlework, piano, vocal, dance, qanon (Armenian national musical instrument) and violin classes. These classes allow children to communicate with different fields of art and culture. This school also gives professional education: children get qualification for massage and computer skills. Computer class is functioning by means of All Armenian Fund within the framework of "Arev" program especially for blinds. This program gives a great opportunity for blind children to integrate in society and acquaint with modern technologies. Festivals and other interesting events on school subjects are organized at school. The individual classes, speech therapists and physiological trainings have a great importance in school. Children have active participation in Republic Olympiads on school disciplines, awarding first degree diploma and prizes. The five-floor building was reconstructed under supporting of USAID within the framework of Fund for Armenian Relief program. The classrooms, toilet, gym, dining hall, playrooms and bedrooms are up to modern standards. There is medical room with staff of oculist, therapist and nurses with all-day duties in school. There is also the dental cabinet with all necessary modern equipments in school. The dentist cabinet was organized within the framework of funds on small grants from fund-in-trust reserves of Poland Republic budget. Annually in spring and autumn the eye relief vitamin procedures are organized for school children. The school provides daily four times food. There is local heating system, which also provides school with permanent warm water. The play square fitted for children with visual impairments are built in school garden. Children of this school get knowledge of common-educational school and school leaving certificate, which gives them the opportunity to enter universities. Today our school graduates enter and study in different institutes of higher education with excellent marks.
Associations
Armenian Association of the Blind
Address: 18 Isaakian Street, EREVAN 375025, Armenia